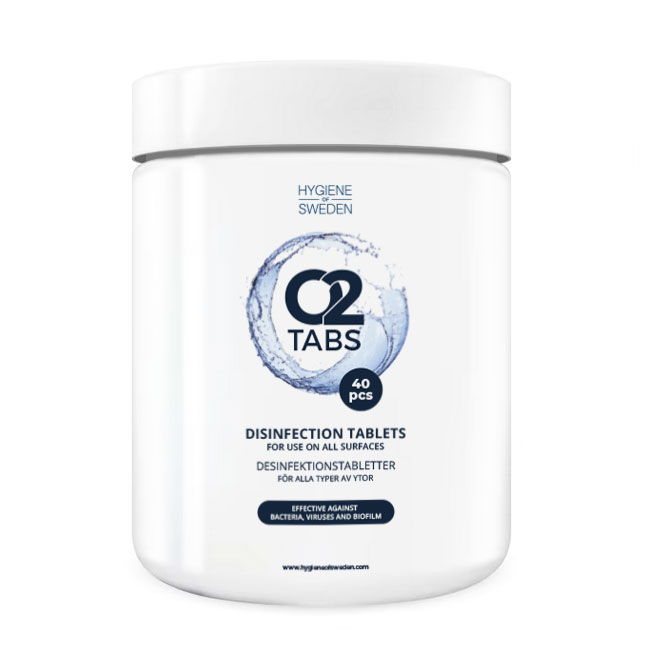 SKU
Category
Type
Container type
Brand
Label
EAN HS-code
Country of origin

HS-GL-EN-OX0524
Disinfection

Container
Hygiene of Sweden
SE,EN
7350096403753

Germany

Volume
Height
Width Length
Diameter
Weight
Products per carton
Products/pallet
0 ml
160 mm
- mm
- mm
- mm
g



Carton length
Carton width Carton height
Carton volume
Carton weight
Cartons/layer
Layers/pallet
Pallet width
Pallet length
Pallet height
Pallet weight
mm
mm
mm
dm3
g


800 mm
1200 mm
mm
kg
02 Tabs - Disinfection tablets
EFFERVESCENT TABLETS FOR SURFACE DISINFECTION
ONE TABLET IS ENOUGH FOR 10 LITERS OF WATER
BENEFITS
+ Non-corrosive
+ Saves storage space and transportation costs
+ Effectively combats various microorganisms
+ Easy to use, precise dosage
+ Long durability
AREAS OF USE
+ Agriculture and horticulture
+ Cleaning industry
+ Restaurants and catering
+ Hospitals
+ Laboratories
+ Operating rooms
+ Water system
+ Dairy industry
+ Veterinary clinics
INSTRUCTIONS FOR USE
Dissolve 1 tablet in 10 liters (tablet weight 24 g) of water. The tablets dissolve within a few minutes.
After complete dissolution of the tablet, allow the solution to stand for a further 5 – 10 minutes before use.
The finished solution can be applied manually or mechanically on a clean and dry surface.
CONTENTS
+ Potassium monopersulfate, maleic acid, sulfamic acid,
carbonates and anionic surfactants.
MICROORGANISMS
Porcine parvovirus
Infectious vesicular rashes in pigs
Avian influenza (H3N8 as a surrogate for H5N1)
Infectious gastroenteritis
Salmonella typhimurium
Listeria monocytogenes
Staphylococcus aureus
Enterococcus faecium
Pseudomonas aeruginosa
Proteus mirabilis
Lactococcus lactis subsp.
Staphylococcus aureus
Klebsiella aerogenes
Escherichia coli
Streptococcus faecalis
Clostridium sporogenes
Hoof bacilli
Black beam shape
Coliform bacteria
Agrobacterium
Pythium
Phytophthora
Black basket
Cylindrocladium
Sickle mould fungi
Non-flammable
Clinically tested
TESTED TO STANDARD
+ EN 1656
+ EN 14349
+ EN 1276
+ EN 16438
+ EN 1657
+ EN 13697
+ EN 14476
40 Tablets per pack